Applying to the University of Kansas
Lifelong pursuits start here. Find a KU graduate program to match your mission, then familiarize yourself with individual needs and next steps.
Explore the graduate programs offered at KU. Pay attention to program application requirements and deadlines.

Determine your admission edibility by reviewing the minimum admission requirements below.
Complete and submit your application for admission. Pay the application fee and provide any information or documentation required by the program to ensure your application is reviewed for admission.

Once your application is submitted and the application fee paid, your application will be reviewed by the program you applied to. Application review timelines vary by program. After a program recommendation is made, Graduate Admissions will review your application and notify you of a decision.
KU's minimum admission requirements
Applicants must meet the following minimum requirements for admission to any graduate program at KU:
Proof of a bachelor's degree (and any post-bachelor's coursework or degrees) from a regionally accredited institution, or a foreign university with substantially equivalent bachelor's degree requirements
Proof of English proficiency for non-native or non-native-like English speakers
Program-specific admission requirements
Each graduate program at KU determines what additional materials or criteria are required for admission. These may include, but are not limited to:
A resume or curriculum vitae
Writing samples
A personal statement
Exam test scores
Minimum GPA
Letters of recommendation
Contact your program of interest for questions you have about program-specific requirements.
Application requirements
Transcripts: At application for admission you may attach scanned official transcripts to your application. Some departments may require official transcripts at the time of application. Check your program's admissions requirements.
After enrollment you must submit official, final transcripts for any degrees earned before your second semester of graduate enrollment at KU or you will not be permitted to enroll for your second semester.
Transcripts from US institutions must include degree conferral and may be sent:
Via mail: Transcripts must be sent directly from your institution, in a sealed envelope, to
Graduate Admissions
University of Kansas
1502 Iowa St.
Lawrence, KS 66045
Electronically: If your institution offers a secure electronic transcript delivery service (such as Parchment or National Student Clearinghouse), you may have transcripts sent to graduateadm@ku.edu.
Transcripts from international institutions must include:
Completion of coursework required for degree
Degree earned and the date degree was conferred. If this is not on the transcript, you must submit a degree certificate or diploma.
Official stamp or seal from the school
CSSD (formerly CHESICC) verification report (in English) for degrees earned in China
Transcripts may be sent:
Via mail: Transcripts must be sent directly from your institution, in a sealed envelope, to
Graduate Admissions
University of Kansas
1502 Iowa St.
Lawrence, KS 66045
Via email: Your institution may email your transcript to graduateadm@ku.edu. The transcript must come directly to Graduate Admissions from an institutional email address, such as the registrar's email address, to be considered official.
Residency: A series of questions on your application will determine if you are a domestic or international applicant.
If your application answers indicate you are a US resident, then it  will determine if you residency is in-state or out-of-state as defined by the University Registrar.
US permanent residents or those with permanent residency pending will need to provide a scanned copy of proof of residency such as a permanent residency card or the I-797.
You will be considered an international applicant if:
•    You are not a citizen or permanent resident of the United States and live outside the U.S.
•    You are an international student at another U.S. institution, and you are currently in F-1 status (including OPT) or J-1 status (including Academic Training)
•    You are currently on an H1B visa
•    You are currently on a dependent visa — e.g., F-2, J-2, or H-4
Visit International Support Services for more information on visas as that office is responsible for managing the visa process.
If you are admitted to an in-person or hybrid graduate program, you will be required to submit proof of finances. Proof of finances are not required to be considered for admission.
Application fee: Your application fee will vary depending on your status.
Domestic degree-seeking: $65
International degree-seeking: $85
Certificate-seeking: $30
Non-degree-seeking: $30
Applicants may be eligible for an application fee waiver. To be considered for a fee waiver, most applicants* must submit a fee waiver request. This process only applies for programs listed on the page here; applicants interested in Business programs should contact the Business School to learn more about requesting an application fee waiver (Master's in Accounting and Business Ph.D. will use the fee waiver request).
Before submitting a fee waiver request, you must first start a graduate admission application and select the program you're applying to - fee waiver requests without a program will be denied. Although not required, you are encouraged to complete your admission application before submitting your fee waiver request. Your application fee is non-refundable, so do not pay the application fee when you submit your admission application if you plan to submit a fee waiver request. Fee waiver requests should be submitted well before the program application deadline to allow time for review.
For applicants who are citizens of countries with Temporary Protected Status or countries in crisis as defined by internal resources, Graduate Admissions reviews fee waiver requests within 2-3 business days. Individual programs review all other fee waiver requests. Not all programs offer fee waivers, and program review times vary.
Applicants will be notified when a decision has been made on the fee waiver request. If a fee waiver is approved, it will be added to the application, and you will not be asked to submit an application fee. If your fee waiver is denied, you will need to pay your application fee before your application is reviewed for admission.
*Individuals that provide documentation in the application of previous participation in a federally funded TRIO program are not charged an application fee. Select programs also sponsor the application fee and applicants to these programs will not receive a prompt to submit payment. 
Official test scores: Some programs require tests such as the GRE or the GMAT. Refer to your program of interest to confirm test requirements. GRE test scores should be sent by ETS to KU's institution code of 6871.
Some applicants need to provide scores related to the University's proof of English proficiency requirement. Details can be found here.
References and recommendations: Programs may require you to provide references or letters of recommendation as part of your application. If so, the application will prompt you to provide names and contact information for each reference. It is VERY important that you double check that your references' names and emails are correct. A failure to correctly fill out the recommendation section may cause significant issues and delay the review of your application.
Recommendation requests may be submitted through the application before the application is fully submitted., or at the time of submission. Your references will receive instructions on how to complete their recommendation. Recommendations received on your behalf prior to application submission will link to your application when it is submitted.
If you are not prompted to provide references on your application, that could mean your program doesn't accept online recommendation submissions or doesn't require them. Refer to your program of interest to confirm reference and letter of recommendation requirements.
English proficiency requirements
Non-native English speakers are required to meet certain levels of English proficiency to gain admission to KU graduate programs. Common ways to demonstrate proficiency include previous degrees and test scores.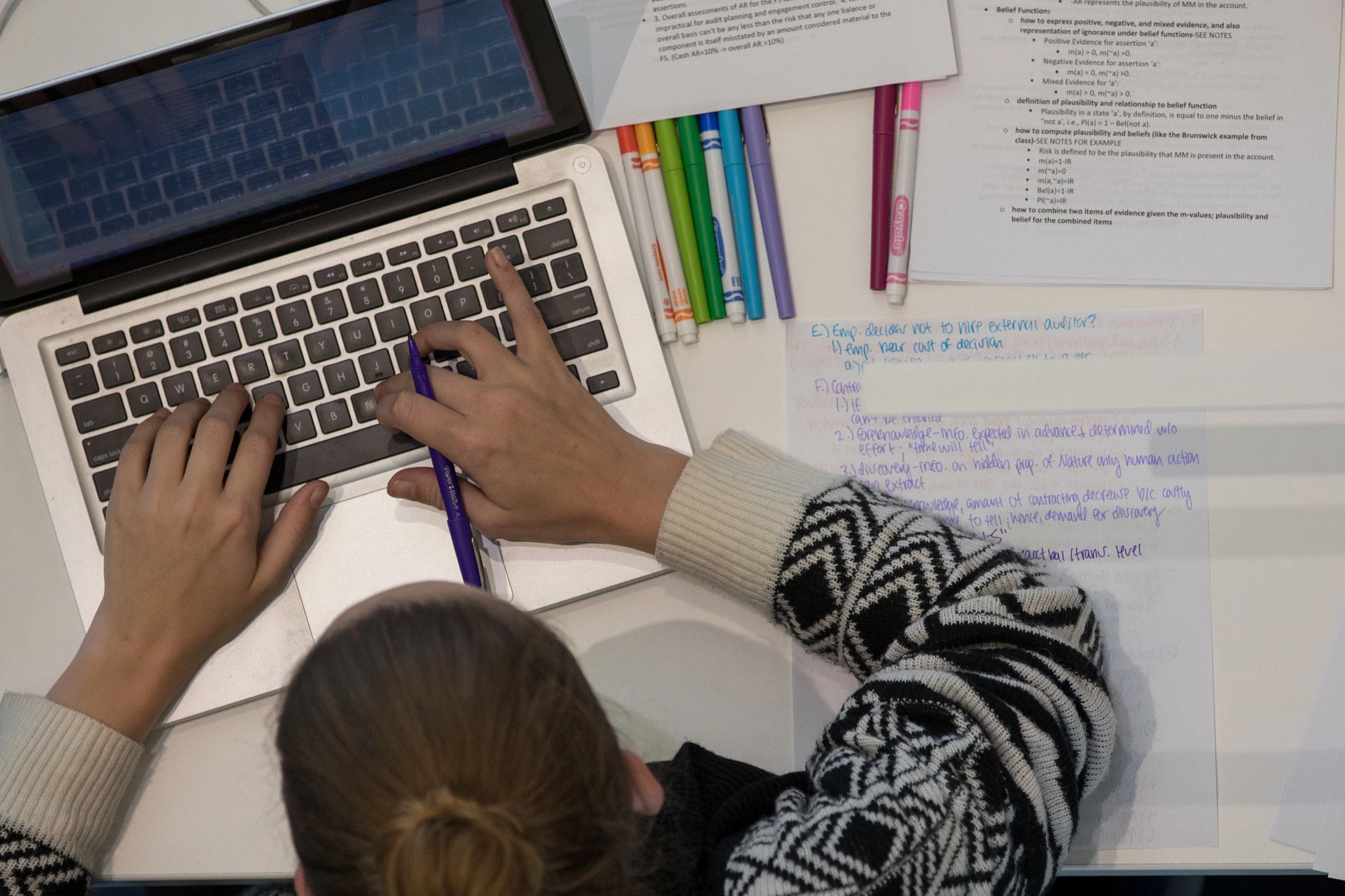 Students with specific statuses
International graduate applicants will be asked to provide additional information and materials for processing immigration documents. Learn more about what you'll need to apply to a graduate program.
Application fee: $30
If a student does not intend to work for an advanced degree or certificate, they are considered a non-degree-seeking student. Non-degree-seeking students may apply within a specific department, a program, a professional school, or the College of Liberal Arts & Sciences. If a non-degree-seeking student later applies and is accepted as a degree-seeking student, the total credits transferred may not exceed nine hours.
Requirements
To gain admission to a graduate program, non-degree-seeking applicants must
Meet the English proficiency requirements for admission
Provide evidence of a completed bachelor's degree, conferred by a regionally-accredited university or a foreign university with substantially equivalent degree requirements. A bachelor's degree may not be accepted if it was not evaluated in units that identify the academic content (e.g., if the work was graded on a P/F or S/U basis).
Application Fee: $30
The University of Kansas offers a variety of certificate programs for both current graduate students and non-KU students; however, some certificate programs require enrollment in a degree-seeking program.  Current KU degree-seeking students should contact their department about the application process. Non-KU students will need to apply for admission.
The Permit to Re-enroll is only intended for individuals who have enrolled in their graduate program in the past year. The permit to re-enroll form is not available to a student who: 
was dismissed from a program at KU
was voluntarily discontinued (formally withdrew) from a graduate program
completed the graduate degree program
most recently enrolled as a non-degree-seeking graduate student
Students will not be considered for readmission if they are currently on a leave of absence, if they have not been enrolled in the past year, or have earned a degree from the graduate degree program (See the Permit to Re-Enroll policy page for more information.)
Before completing the form, students should verify with their graduate program that they are eligible to re-enroll. 
Dismissed students and those who withdrew from their program must submit a full application.
Explore graduate programs
Browse more than 250 graduate programs and their application requirements.